Viking Opener Invitational
September 17, 2016
Dear Coach,
Welcome to the 31st Annual Viking Opener Cross Country Invitational. Below you will find some general information pertaining to this year's event.
Host: Montgomery High School
Date: Saturday, September 17, 2016. First race starts at 8:35 a.m.
Site: Spring Lake Regional Park, Santa Rosa ($7 parking fee at the Newanga entrance or free with a Regional Parks Pass)
Course: All divisions, 2.0 miles, rolling hills on dirt trails and paved bike paths.
Scoring: All grade-level races, the top 3 finishers for each team make up the team score, 4th and 5th runners displace. Athletes may not "race-up" a division (ex. No Freshmen in the Junior race). Incomplete teams will be scratched from team scoring but those individuals will be eligible for awards.
Alumni Race: Team scoring as above. All runners teamed according to high school they attended or high school region (i.e. those from the same county, region, etc.). Wear your old school uniform if available! Please arrive early for race-day only registration.

Sponsors: Saucony, RockTape, Fleet Feet Sports, Heart & Sole Sports, Empire Runners Club
Timing: http://www.sml1.com/recordtiming/ Chip timing will be provided by Record Timing. Record Timing is a San Francisco-based timing company with a thick resume including the USATF Olympic Trials and the CIF State Championships.
Amenities: Snack bar, athletic taping, custom event t-shirts and sportswear for sale.
Entry Fee: High School / Middle School: $150 per school, or $15 per entry – whichever is less High School Alumni: $10 per entry (Day-of registration only) Coaches: Free! (Day-of registration only)
***Meet entries will be through EZ Meets. Instructions will be sent with password.
Registration: Go to EZMeets.com for password and entry information after August 1. Payment and entries must be received by Saturday, September 3rd, to be guaranteed entry into the event.
Mail entry fees to:
MHS Cross Country
c/o Fleet Feet Sports
111 Third Street
Santa Rosa, CA 95401
Awards:
TEAM: Ribbons to each team member (max 5) on 1st thru 4th place teams in grade-level and open races.
INDIVIDUAL: Medals to top 10 finishers & ribbons to finishers 11th through 20th in each division.
Schedule:
7:30 - 8:30 a.m. Course open for walking
8:20 Coaches Meeting
8:35 Junior High Boys and Girls (unlimited)
9:00 Frosh Boys (5 max.)
9:20 Soph Boys (5 max)
9:40 Frosh/Soph Girls (5 max.)
10:05 Alumni/Coaches
10:35 Junior Boys (5 max.)
10:55 Junior/Senior Girls (5 max.)
11:20 Open Girls (unlimited-must fill grade levels first)
11:45 Senior Boys (5 max.)
12:05 Open Boys (unlimited-must fill grade levels first)
12:30 Team Award Presentation
We are looking forward to hosting you and your team this year! Please e-mail any questions you might have to melody@fleetfeetsantarosa.com.
Go Vikings!
Melody Karpinski
Head Coach
Montgomery Cross-Country
Open file below to view course map and parking instructions
Open file below to view final instructions for coaches
All-Time Top 25 Vikings on Viking Opener 2-Mile Course
All-Time Top 25 on Viking Opener 2-Mile Course (All Schools)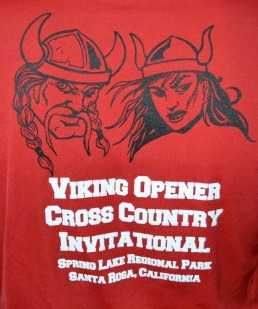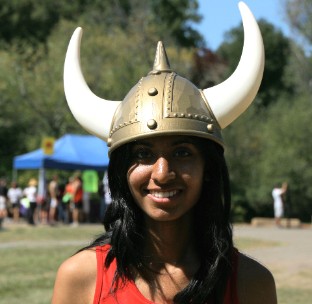 Viking Opener Alumni Results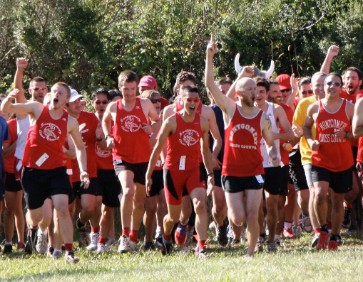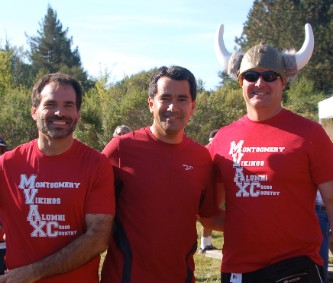 Jason Schaumberg '85, Paul Cummings '86, Tony Harrison '84